2017 posts
DE: New live release is out
16/10/17 16:33
DE IS HERE! This 28 minute release is comped from several live takes of my recent Melbourne set. It's the same mix I play into a big room, thus sounds awesome in a big room.
DE is starting life as Bandcamp-only, pay-what-you-want, and you can get anything from 24-bit FLAC to mp3. If you do stream it, don't only stream it, listen to the lossless version sometime with all the frequencies and transients.
Aeriae plays Melbourne Fringe, Friday 15 September 2017
05/09/17 22:36
I'm playing at Clan Analogue's Digital Envelope event on Friday 15 September 2017 at Bar 303 in Northcote, Melbourne. I'm putting together a new high pace set. And if the venue allows, I'll be playing in darkness.
Tickets are $12 online now. You should also be able to buy at the door on the night.
LINKS:
Digital Envelope facebook event
Digital Envelope Melbourne Fringe page (with ticketing)
SPIEL:
Clan Analogue celebrates 25 years of independent Australian electronic music-making with a two-night festival at Bar 303. Friday night's 'Digital Envelope' explores the multi-faceted digital realm of electronic music while Saturday night's 'Analogue Coordinates' sees some of Melbourne's idiosyncratic analogue technology performers in a spontaneous one-off collaboration.
Digital Envelope explores the digital realm of electronic music with multiple artists presenting their unique sonic manipulations of ones and zeroes. With live performances by Aeriae, Random Acts of Elevator Music, iubar project and a retrospective DJ set by KOSHOWKO. 
Experience iPad virtuosity, live coding, bit-crushed sonics and the bleeps of obsolete soundcards.
In The Abstract mix & playlist
16/06/17 23:51
Here's the 12 June 2017 episode of 2SER's In The Abstract (2 hours) with my guest mix starting at the 30 minute mark and going for an hour.
"In The Abstract with Dennis De Caires draws on fringe sounds, lo-fi and bedroom techno to noise art and ambient sound works. Produced in collaboration with Australian community arts station 2ser. This week: Aeriae & Ben Marston."
AERIAE GUEST MIX PLAYLIST:
Seefeel Spangle 1994
Aeriae Hold R1 2007
Metropol Lilith 2005
Autechre Altibizz 2008
Retina.it Obsidian 2001
Akira Yamaoka Moonchild 1999
Random Acts of Elevator Music Up And Down 2016
Angelo Badalamenti Harold's Theme 1991
An On Bast De Profundis 2006
Simon Boswell Kris VR 1994
Makoto Tomozawa, Sayaka Fujita and Akari Kaida Located main generator 1999
Basil Kirchin Special Relativity 1973
Leksha All the colours we can see 2016
Thallium & Milo Psychopomp 2013
Gescom Key Nell 4 1996
...
Aeriae to guest mix on 2SER's 'In The Abstract' June 10 (2017)
10/06/17 21:48
I have agonisingly crafted an hour long Twin Peaks-inspired mix for the Monday June 12 episode of Sydney 2SER's (107.3 FM) In The Abstract radio show, hosted by Dennis de Caires. The show goes from 10PM to midnight and my mix begins at 10:30PM. Tonally it ranges from the angelic to the weird to the frightening. That's the Twin Peaks aesthetic. You'll hear music from bands like Seefeel and Retina.it, from computer games like Silent HIll, Dino Crisis and Burn:Cycle, from avant garde jazz musos turned producers like Basil Kirchin, and from me both as Aeriae and half of Thallium & Milo. And you'll hear a piece of music from 1990's Twin Peaks. Thanks much to Dennis for inviting me.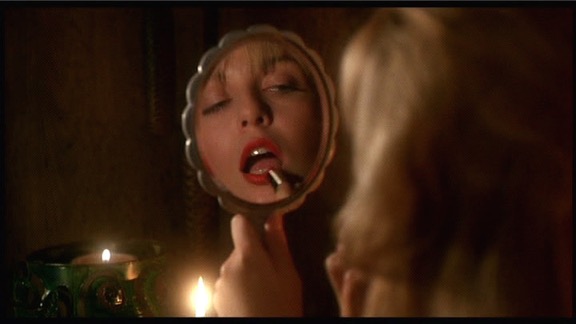 Peril Triage reviewed on Cyclic Defrost
11/05/17 20:37
Chris Downton has reviewed Peril Triage on Cyclic Defrost.
Live As Can Be Video 2A – Skirr: Performance and track breakdown
26/04/17 21:21
I've just released episode 2A of Live As Can Be on YouTube – "Skirr: Performance and track breakdown".
The first half of the video is me performing the live version of Skirr from my first album Hold R1. The second half of the video is a detailed description of how this version came to be: how I ported the track elements from Logic to Ableton Live, how I organised them, how I assigned controls, and why I did or didn't make particular decisions while doing these things. Building on the overview of my setup presented in episode 1, episode 2 broaches slightly more technical topics.
Peril Triage reviewed in Igloo
16/04/17 22:02
The first review of the EP comes from Igloo Magazine.
Live As Can Be 2B – Escape From New York
03/04/17 23:13
Episode 2B of Live As Can Be is online, in which I do a keyboard cover of the theme from Escape From New York.
So why 2B and what happened to 02A?
In the wake of episode 1, I decided to split future episodes into A and B videos. The A video will have an Aeriae track performance (2A will be Skirr) and any related production talk. The B video will have me doing a keyboard cover. I originally thought of the covers as easter eggs of sorts, but splitting them into their own videos will make them easier for random folk to find on YouTube, so it's a practicality thing.
As for why 2B has come out first, it's just that I already shot all the material needed for it. I still need to record the tech talk for 2A.
Peril Triage EP out now
21/03/17 20:19
The new Aeriae EP Peril Triage is out today! This 47 minute digital-only release from Clan Analogue Recordings is available from online music services all over the place. For instance, but not limited to: Amazon, Bandcamp, iTunes, Juno, Spotify, Tidal
Something you won't see on most digital services is the art on the back of the virtual packaging. Here it is: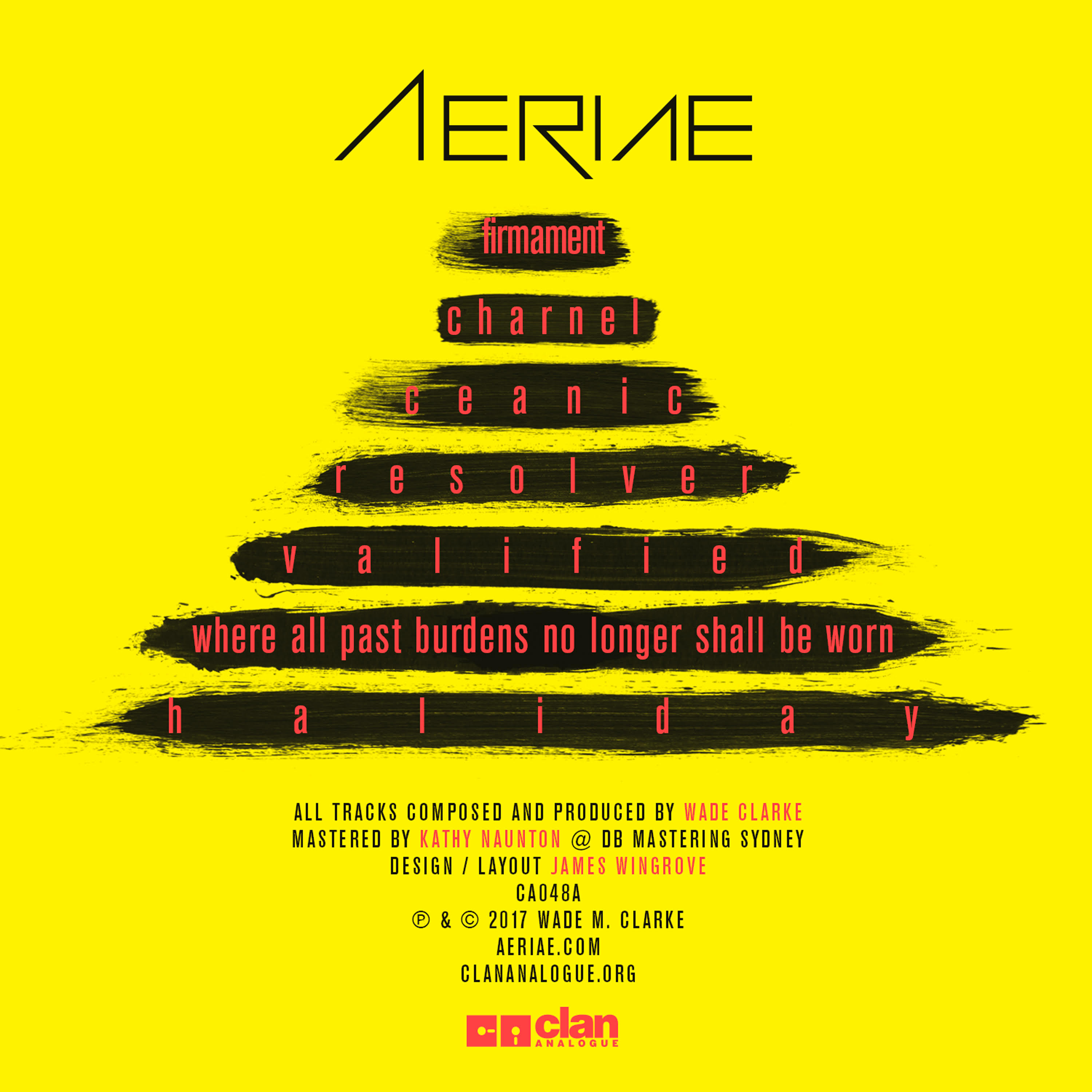 Aeriae - Live As Can Be videos
09/03/17 16:50
To accompany the Peril Triage EP, I'm making a series of videos called Aeriae - Live As Can Be.
In episode 1 I talk about how I got into playing live via Moldover's awesome controllerism video. I demo Lenticular Cup and other music from the first Aeriae shows back in 2009, including the intro riff from Apple IIGS game The Immortal, then I describe my setup in detail. For the keyboard outro, I play Spy vs. Spy from the Commodore 64.
Peril Triage Bandcamp pre-orders
09/03/17 16:48
Peril Triage is out on 21 March 2017 via all the usual outlets, but you can pre-order it now on Bandcamp and get the first track immediately. Any further pre-order options will appear on the front of this site as they become available.
Peril Triage EP coming March 2017
24/02/17 22:37
The next Aeriae release will be the 43 minute EP Peril Triage out March 2017 on Clan Analogue!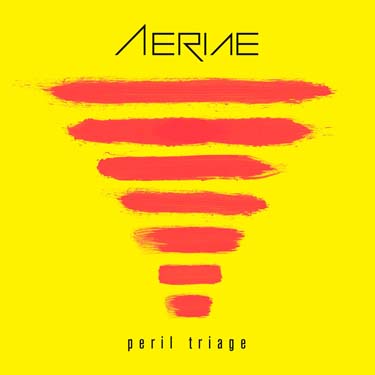 To make this record I took the material from my last live set (for the Victris mini-tour) back into the studio. This is the first time I've adapted material in this direction and the result has more of the dynamics and pace of my live set, and no breaks between tracks.
To promote the EP I'll be releasing a series of videos demonstrating ways my live rig has worked over time, performing those tracks on video and also playing some other ditties on the keyboard – on video.
I'd hoped to get Peril Triage released in 2016, as it was ready to go then (which would have given it a calendar date of only two years after Victris!), but because of the spacing of Clan Analogue releases, it had to slide into 2017.
Back to post list